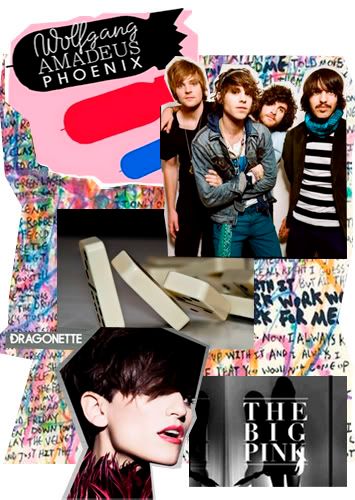 Note that plural! I have so much new music that I'm keen to share that I can't wait to release it in the trickle that is weekly album posts. Maybe I should call it a 'Just updated my iPod' post. Note I am busying my blog with other things like music, in the hope that it won't notice I haven't posted any outfits in months! This is of course because I wear pretty much the same clothes everyday now (comfy and house-bound) and Wes is too busy with work to take photos of me :-(
So, I 'Just Updated My Ipod' with...
Dragonette - tipped off by Sportsgirl's blog, this is soo good, kind of like Lady Gaga but cooler. Maybe like Yeah Yeahs Yeahs but more electronic?
The Big Pink - really reminds me of something but can't put my finger on it. Good album, and it doesn't stop at the single (Dominos - they're using it on ads and stuff already). It's quite rock, which is a relief from all the electronica I've been listening to lately.
The Kooks - shouldn't like this at all. Rich pretty boys who went to talent school. All songs sound mostly the same. But I can't stop! I'm sorry.
Hockey - yes, so did everybody else this week!
Phoenix - ALL their albums as I'm going to see them soon, but I will be posting on that later...
Now I've got them all out of my system let's see if I can come up with anything next week!