Just so you know, my wardrobe does not normally contain anything remotely designer. The closest I come is a Josh Goot for Target trench. I am just one of the regular folk who read Vogue and dream about one day being in the position to be able to buy such beautiful things. So I hope you can understand just how exciting it was when my sister gifted me a couple of very special pieces. She is not filthy rich, she got them at a filthy big sale. Still can't believe it!! It has got to be the most wonderful gift ever, just ridiculously generous, and I felt so guilty accepting them, but now I have to focus on giving them the life they deserve - despite every fibre of my being saying I must preserve them at all costs, I am determined they would want to go out and be styled up and do whatever normal clothes do.
LANVIN...is quite 'evening', so I like to dress her down a bit with a tee...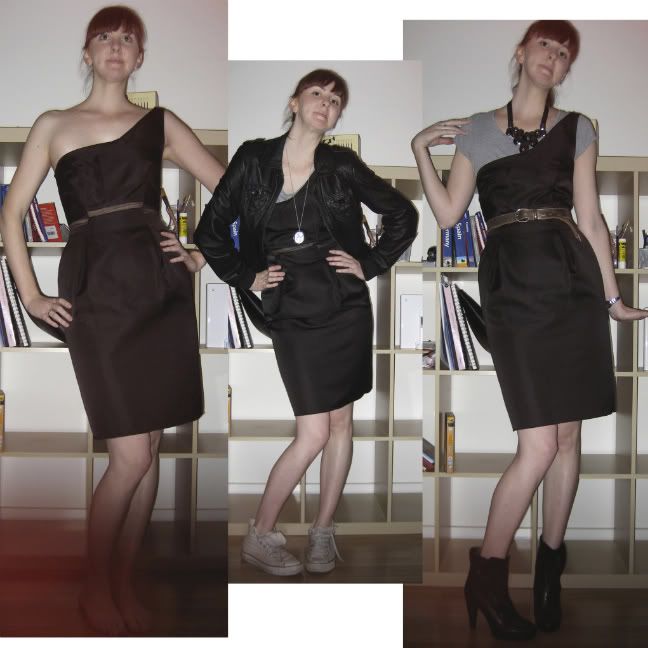 With H&M leather jacket and trusty Cons; and with grey H&M tee, Sportsgirl neckpiece, ASOS boots, and vintage belt.
BALMAIN...I imagine most would style her up with nice chic courts and opaques, but I prefer the contrast of the beading with the grungy-casual parka...
With Leona Edmiston Pins and Sportsgirl Reese heels; and with old parka, Edinburgh pashmina, and KG boots.
She got a couple of gorgeous Lanvin skirts for herself, but the piece de resistance is the black lace Balmain dress that Gwyneth Paltrow wore to the Iron Man premiere last year. I don't even know if it fits her, she is just keeping it as a museum piece!